Being an au pair during a pandemic
Au pair coach and author Melanie Josephine shares tips on how to keep your head straight during the corona crisis and offers free au pair coaching sessions for a limited period (see offer at end of article). 
May 07, 2020
, in Coronavirus
A few weeks ago no one would have thought that we would be in the situation that we are in now. It causes many fears, uncertainty and also loneliness. Not knowing how long the situation is going to last; not knowing when you will see family members or friends again – none of this is easy.
I have decided to write this article to give you some ideas of how you can cope with the current situation and how you can handle the uncertainty that is surrounding us. So let's get started:
It is okay to feel down
Growing up, most of us have learned to move away from disappointment, sadness and pain as fast as possible. BUT these emotions are here to serve us in one way or another. Ask yourself: "What am I supposed to take from this situation?" 
Very often what makes us feel worse than we already feel is not allowing ourselves to feel the way we do, because we think there is something wrong with that. Let me tell you that there is nothing wrong with what you're feeling. 
It is entirely okay for you to be concerned about your elderly relatives; maybe about your own health or your disappointment about being in lockdown; your disappointment about a cancelled holiday or other plans. It is okay to be disappointed about whatever it is that you are currently experiencing.
You might think: "Isn't it unprofessional to feel this way?! Or too childish??"-  I am telling you it's not unprofessional and it's not immature. It is human. 
Yes, you may not want to show all your negative emotions in front of your host family, but it is okay to admit what you are going through. By being honest you will develop a stronger connection to the people around you. If you pretend that everything is okay, you create disconnection and inauthenticity.
Accepting mode
Once you have allowed yourself to feel bad, you need to begin to accept that your au pair journey is not going to be the way you originally planned it. You may not be able to do the travel you planned. At this point, you may not even know when you could even return home. 
But what you can take comfort in is that everyone is in the same boat, and you will be able to fulfil these plans at a later stage. Whether you have decided to stay with your host family or return home, don't ask yourself if that was right or wrong. You made your choice and therefore it is not helpful to question it.
To future au pairs
As a future au pair, you have probably planned to make your move this summer and now your world is upside down. Maybe you don't know when you will graduate? Maybe that's not an issue, but you don't know when travel will be allowed again. 
All you can do is make a healthy estimation of what you think how long this situation is going to last and make plans accordingly. Are you just as happy to start your au pair journey in September rather than July or August? Did you already find a host family? What is their take on this? Are you considering to postpone the entire idea of being an au pair? 
No matter what you decide, what you can be sure of is that the situation in most countries is not going back to normal in a heartbeat and all you can do is plan as much as the situation allows you. This is also the perfect time to read my book "Rock Your Au Pair Year" (new 2nd edition!) and be fully prepared to make it the best journey of your life!
Make the most of it
Yes, these are strange times. But you will probably still tell your own children about how you spent the time in lockdown. Try to not think about what's not great or what is currently annoying. Instead, think about how you can make the best of this situation.
Maybe you could be more intentional with your host family – get to know them in a way you probably wouldn't have if this lockdown hadn't happened. Are there questions you always wanted to ask them? Are there games you always wanted to try with the kids? Are there meals you've been meaning to try? These are small opportunities to make the best of it.
Look after yourself
Only when you look after yourself can you be the most energetic and best version of yourself.
Could you go for a run or a walk in your break time? Could you watch something funny or uplifting online? Could you FaceTime friends and family? Could you write someone a letter? Could you do a painting? Could you find a podcast that you might enjoy? Could you read a book that you have been wanting to read for a long time?
Again, these are little ways to make the most of your day, right now.
Limit your media intake
Yes, stay up to date with the situation and definitely make sure you know everything that is essential, but there is no need to watch the news more than necessary! 
If you feel that your host family or even your friends talk too much about the news, it is okay to say that you need a break from it. It may even be helpful to take a complete social media break if you feel overwhelmed. Even though our phones seem to be our lifeline now that we can´t see anyone, it is very easy to spend way more time on social media than is healthy. Think about what is really best for you.
A special coaching offer for a special time
Between May 11 and May 22, I will offer two FREE 30-minute coaching sessions per week (English or German) between 11am - 4pm BST (Mon.to Fri.). Your session can be about any problem you are struggling with or it can be that you just want to ask me au pair related questions (for example, if you are preparing your au pair journey).
To make use of the offer all you need to do is:
Be subscribed to my YouTube channel: Melanie Josephine
Follow me on Instagram: melanie.josephine.
Then CONTACT ME VIA INSTAGRAM MESSAGE (the coaching calls will also take place via Instagram Video Call).
In your message, please tell me in one sentence what you would like to talk about during your session and give me two options with times/dates you are available.
I will get back to you asap. It is first come first serve, so if you would like a session contact me immediately!" 
I hope that all of you find the love and the courage inside you that will help you and your host families to get through this time!
More from Melanie in the AuPairWorld Blog: 7 things NOT to do as an au pair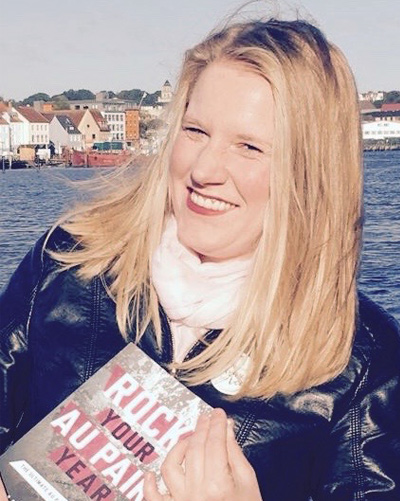 About the author:
Melanie Josephine was born in Germany, has been an au pair in the US, and has also lived in Australia and New Zealand. She has a coaching certification from Robbins-Madanes Training and currently lives and works in the UK. She has published two books "Rock Your Au Pair Year" and "Love Life Simplified".
You can connect with Melanie here:
YouTube: Melanie Josephine
Instagram: melanie.josephine
Web: melaniejosephine.com
Email: melanie-josephine@web.de